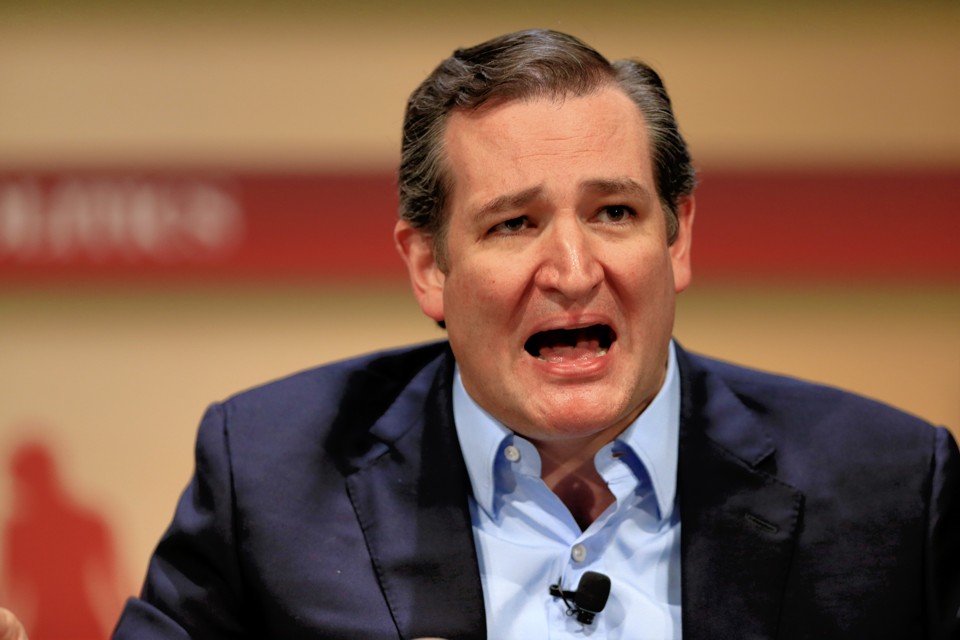 Of the three remaining contestants in the GOP run for President, Ted Cruz is the only one with no path forward.
I used to do a radio slot where I talked to a Conservative American contributor one week, then a Progressive American contributor in the same slot the following week. I've stayed connected to the Conservative contributor even though it's evident by the stone wall of silence I get from him that he now wants nothing to do with me, however I enjoy going to his page and seeing what his followers and 'friends' are talking about. Steve Deace is a 'major surrogate of Ted Cruz', as Carly Fiorina described respondeding to a tweet he sent out claiming she "goes full vagina" during a debate introduction, and he actively tells his listeners and followers that if they support Trump they need to unfriend him
and not listen to his radio show. I wanted to explain a bit of background to this because my comments about Cruz having no path forward is in no way support for Kasich or Trump as I have been accused of on  Deace's Facebook page so to my American friends and readers please take this post as a perspective from outside America from someone who follows your election process religiously and can see the pros and cons from many aspects..
Ted Cruz has no path forward for three reasons. He will not get to the magical 1237 delegates before the GOP conference, he will not be the front runner when it comes to the GOP conference and he is not the candidate that the conference establishment will get behind so he is stuck in no-mans-lands.
For Ted Cruz to win the nomination before the conference he need to win about 772 of the remaining 848 delegates (or 91%) to make it to 1237 which is the number of delegates needed to become the GOP Presidential nomination so we can eliminate that as a possibility immediately.
For Cruz to become the front runner, and by that I mean leader in number of delegates, before the convention he will need to win between 60% and 70% of the remaining delegates. Even if he was awarded all the winner take all states he would still need to win about 55%-60% of all the remaining proportional delegates. These numbers are highly, highly improbable even if we just give a big win to Trump in New York, which will happen, the equation falls over for Cruz.
Finally if no one receives the 1237 delegates outright we go to a contested convention and, as we have seen in the past, these conventions are usually controlled by the party insiders whom today are referred to with disdain as the 'party elite' or the 'establishment'. The 'establishment' hates Ted Cruz to the core leaving John Kasich as the only candidate left for the elite to support.
So Ted Cruz won't get 1237 delegates, he won't be the front runner, he is not going to be the establishment choice…so what next?
The obvious answer is that there is no path forward for him, he ticks no boxes that lead to him being the nomination…apart from one. The 'anyone but Trump' box.
The only way that Ted Cruz could possibly become the GOP nominee for President is either John Kasich drops out making Cruz the lesser of two evils with two non-establishment candidates, or is the establishment move away from their candidate in Kasich because they think that Cruz has a better chance of beating Clinton or Sanders in November. Unfortunately for Cruz in most if not all of the head to head Presidential polls over the past few months Kasich has out performed both Trump and Cruz leaving the establishment at the convention to justifiably put forward Kasich as the most likely candidate to beat either Democratic nominee which leaves Cruz's only chance being Kasich dropping out which looks unlikely.
Whilst you never say never in politics, it seems to me that speaking logically it is highly unlikely any of the above possibilities for Cruz above will be the scenario for him to get the nomination which leads me to believe that there is no path forward for Ted Cruz to be the Republican nominee for the 2016 Presidential Election.