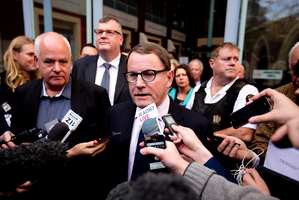 At 2.20pm this afternoon when I heard the breaking news that John Banks had been convicted of  falsely declaring an electoral report I had a thought, it was the first time I had this thought…but I pondered it all the same.
Assuming that John Banks is now no longer an MP as statute says if a sitting MP is convicted of a crime that could result in a two year or more prison term, and this conviction is that, then they must resign as an MP AND assuming there is no time for a by-election then from now until Thursday 14th August when Parliament is dissolved the Government must go to the Maori Party to pass any legislation. Even if Mr. Banks stays in Parliament through that period as he has not been sentenced yet, it will be wise for Mr. Key not to use his vote to pass legislation as that would open him up to significant, and justifiable, criticism from the opposition using the vote of a convicted criminal to pass law.
If the election date had of been the usual end of November, then Parliament would have dissolved at the end of October and National would have had to go cap in hand to the Maori Party for another two months.
I just wondered today is John Key took the ultimate gamble and, rather than Government business at the end of the year, he was worried that John Banks may have been convicted and would have had a lame-duck Government for longer than was desirable.
I know it may seem a little conspiracy theory, but if it was one of the contributing factors to the election date you'd have to say, whether you agree with his politics or not, it was a genius move by the Prime Minister.
As a side note, if a by-election is called in Epsom John Key will no longer be able to call any referendum driven by the left as a waste of money, because a by-election weeks out from an election would be the singular biggest waste of money of recent time.